Description
Kitchen scissors treated with 3M's titanium coating technology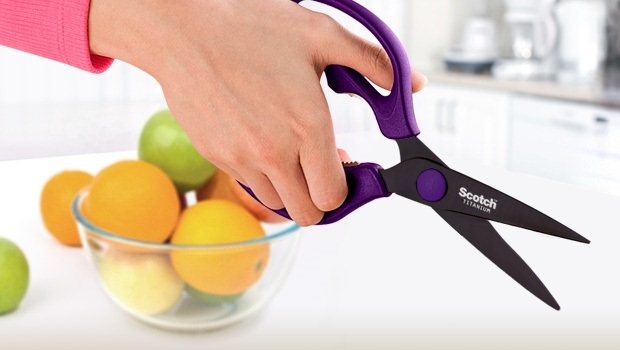 Scotch™ Titanium Kitchen Scissors – Detachable
Colour-code your scissors to provide the best hygiene in the kitchen for your loved ones
Designed with food preparation hygiene in mind, the latest addition of  Scotch™ Red Titanium Kitchen Scissors can now be used in conjunction with the Scotch™ Titanium Kitchen Scissors in Purple to colour-code different pairs for raw and cooked food respectively. Colour-coded scissors can help minimize the probability of cross-contamination, lessening the possibility of food poisoning through cross-contamination.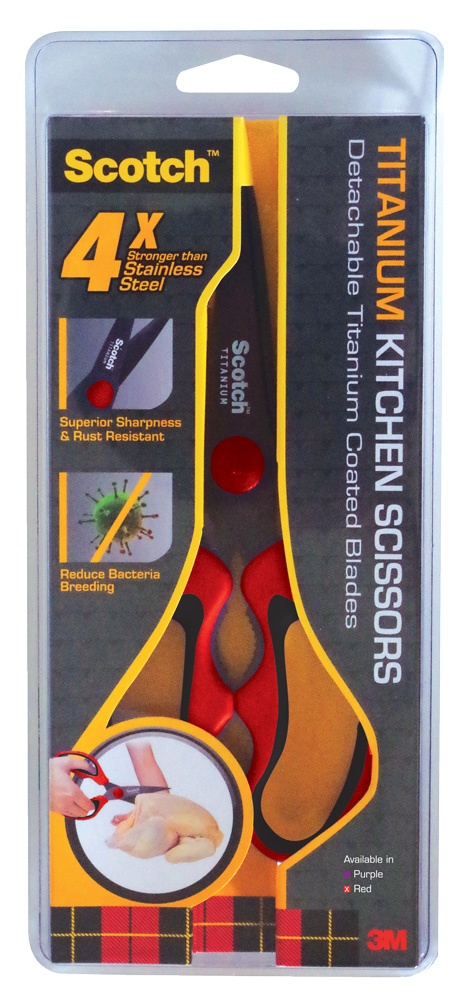 Treated using 3M's Titanium coating process to enhance the ability of the material.
Titanium blades – 4X stronger than stainless steel, enabling the scissors to cut through meats like chicken, and even through soft bones with ease while retaining its sharpness for longer.
Detachable blades for easier and more thorough cleaning (only for red & purple range).
High corrosion resistant blades repel oil and hard water stains, preventing bacteria build-up and requiring only a simple clean–up after use.
Rust-resistant.
Non-stick.
Soft streamlined handles to help relieve stress on fingers, providing a more comfortable grip.
Can even be used as a bottle opener
Not advisable for prolonged usage as knife.
 *Note: can be detached and used as a knife to cut vegetables, fruits and softer meat.
Scotch® Titanium Detachable Scissors
Remove the hassle of washing chopping boards and knives by adopting these scissors-only recipes with Scotch® Titanium Detachable Scissors!
Army Stew recipe
Sweet & Sour Chicken recipe

Scotch® Kitchen Scissors