Description
Introducing Hyflux's 3-in-1 NANO-1 Integrated H2O Water System, allowing us to provide you with greater cost savings on water filtration systems.
– PUB Water Efficiency Labelling System (WELS) Certified Drinking Faucet
– Accredited Ball Valve in accordance to PUB stipulated standards

Cartridge Features:
– Anti-bacterial silver-impregnated mesh traps sediments and suspended solids like rust.
– High performance NSF certified activated carbon block reduces chlorine, solid contaminants, bad taste and odour.
– Nanofibre disc blocks bacteria, submicron inorganic and organic contaminants, via electro-absorption.
– Up to 70% cost savings – with a capacity of 2000 litres,one cartridge is equivalent to 4000 bottles of mineral water
– There is no need to store or lift heavy water bottles with our direct piped-in system
– Filter replacement is just an effortless twist
– Convenient and hygenic!
– Hyflux Nano-1 is tested and certified by SGS, so you can be assured of high-quality drinking water all-year round
– Removes the hassle of boiling water
– Blocks Sediments & Suspended Solids
– Removes Bacteria
– Effectively Reduces Chlorine
– Retains beneficial minerals
– Improves taste and removes odor

Specifications:

– Dimensions: 90(W) x 90(D) x 310(H) mm
– Model no: NANO -1
– Filtration flow rate: 2 liter/min
– Water pressure: 0.6 – 4 bar
– Water temperature: 0 – 40 
– Cartridge lifespan*: 6 months / 2,000 L (* For use with cold municipal water supply only)
– Filter Cartridge Model: NANO -1C


Hyflux DEW Water Dispenser D800



*Free installation & Delivery
Features
• Hot and Cold water at one touch 
• Eco Mode power consumption to minimise 
• Lock-Child Protection Mode available 
• Unique filter cartridges replacement reminder 
• Compact & space saving
Specifications
Size: 44 cm x 27 cm x 57 cm

Weight: 4.5 Kg

Voltage: 220 V / 50 Hz

Power: 510 W

Hot Water Capacity: 0.8 L

Cold Water Capacity: 0.4L

Warranty: 1 Year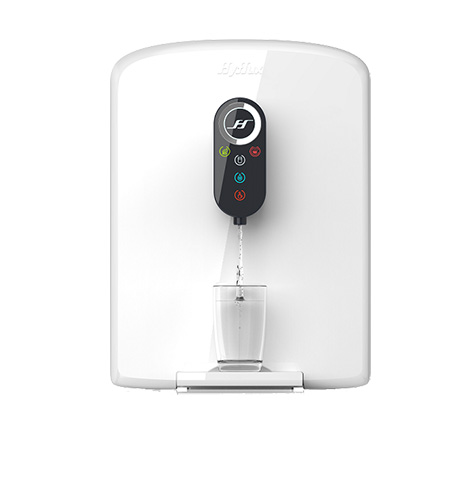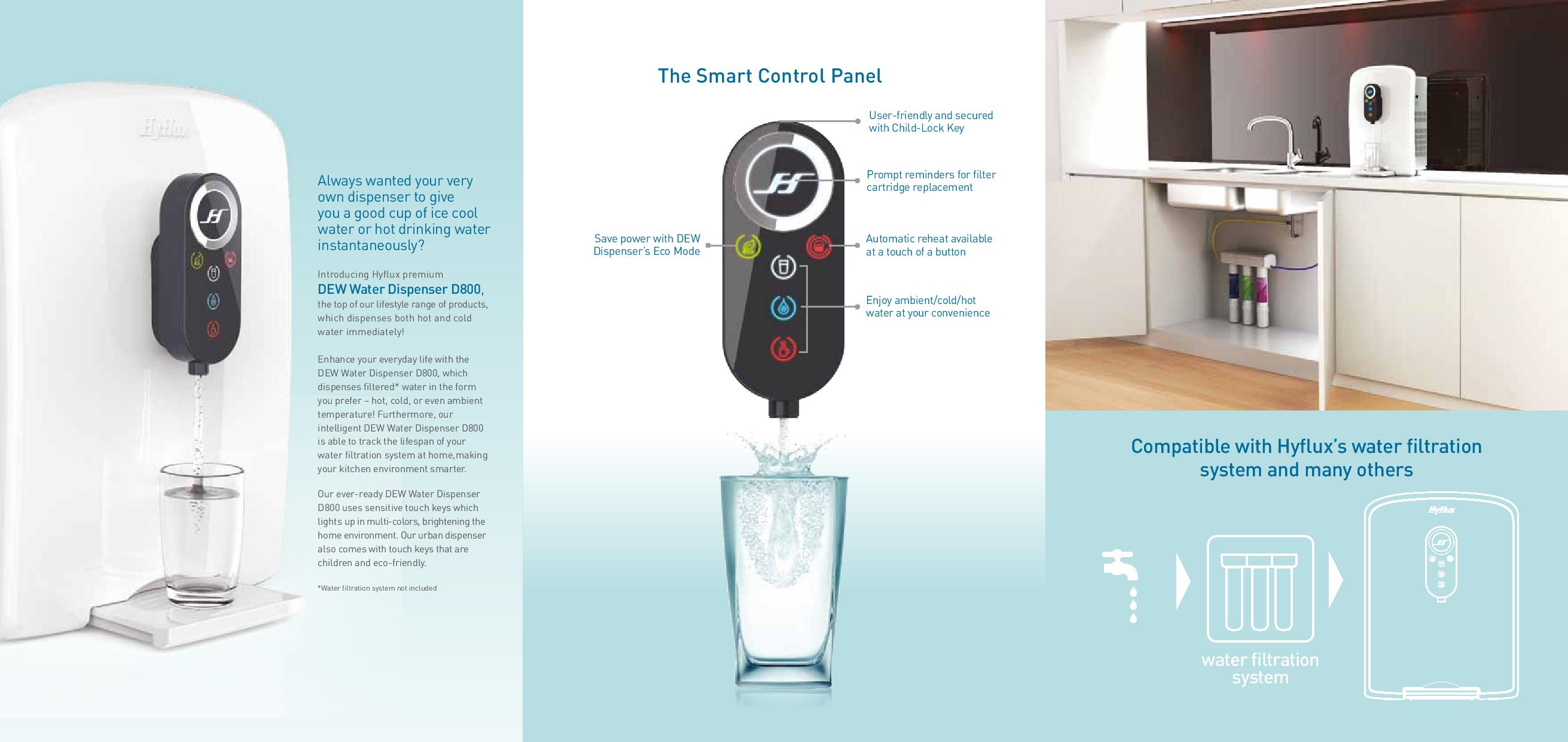 Warranty

1) This warranty is only applicable for Singapore only
(2) Hyflux consumer products are guaranteed against manufacturing defects for a period of twelve (12) months from the date of purchase. 
(3) This warranty is not transferrable. In the event of a warranty claim, the on-line registration will provide proof of ownership.
(4) The following are not covered under this warranty:
a. Damages due to misuse, negligence, abuse or failure of the purchaser to follow normal operating procedures outline in the user's manual
b. Damages, losses, defects or malfunction as a result of Act of God, fire and flood
c. Normal wear and tear, corrosion, rusting or stains
d. Cartridges which are consumables as part of the wear-n-tear products, are not covered under the warranty
e. Products being used for commercial and/or industrial purposes